Ghana and Zimbabwe students scoop top honours at 5th edition of DStv Eutelsat Star Awards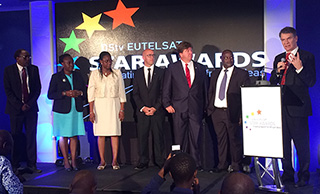 The fifth edition of the DStv Eutelsat Star Awards, organised by MultiChoice and Eutelsat, reached a record participation with nearly 2,000 entries from 18 countries.
The winner in the essay category, Ayawen Asuinura from Ghana has won a trip to Paris and onwards to a launch site to witness a rocket blast into space to place a satellite into orbit. The runner-up in the essay category was Sara Eribo from Equatorial Guinea who wins a trip for two to visit MultiChoice facilities and the South African National Space Agency near Johannesburg.
In the poster category, Mallon Marume from Zimbabwe scooped the first prize for artistic creativity and will visit Eutelsat in Paris to understand how satellites are operated and piloted in space and the many ways they benefit users. Benjamin Ibanda from Uganda was the runner up in the same category.
The four winning schools attended by the overall award winners and runners-up were also rewarded with a DStv installation, including dish, TV set, PVR decoder and free access to the DStv Education Bouquet.
We would like to thank all the entrants for the hard work and creativity put into the submissions and wish them the best of luck in the competition! If you did not enter this year's awards, watch this space for details about next year's competition!

Press release: Ghana and Zimbabwe students scoop top honours at DStv Eutelsat Star Awards

Important notice from MultiChoice Africa Limited (DStv) and Eutelsat